Your Perfect Space
Let us Create the Perfect Storage SpaceWe will be with you through the entire process. From the moment you walk in the door, you'll be greeted by our designers and consultants who 's job it is to ensure your project fits your exact needs.

Our production facility is located in the heart of Miami's industrial district. We only use American materials, that is our standart, and we live by it.
Come see us today and see the ICC difference for yourself. We stand head and shoulders over our competition because we make a superior product and provide you with superior service.
The Ultimate Garage With HAFELE's unique OmniTrack system, we can create the most beautiful, most functional, and highest quality garage projects.

Contact Us For An Appointment

Dealership Program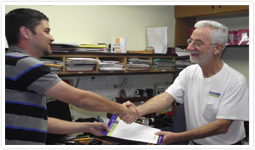 A Great Business Opportunity We'll give you all the support you'll need to become a dealer, and commercialize the CLOSET product.
Read More
B2B 3-D Design Rendering
We can help you present the most professional image ppossible. Let your clients see what the final project will look like with our state-of-the-art 3-D rendering software.
Print-outs are personalized with your company name and logo, and the specifics of the job.
Read More
Our Mission Statement
Family owned and operated, International Closet Center has been serving the Miami and South Florida closet market since 2006 with one vision in mind, "To be the most trusted closet systems provider for the home improvement industry".
Read More